Football Kenya Federation Ag. CEO Barry Otieno has on Friday, December 20, 2019, presided over the closing ceremony of the second session of the FKF Instructors course.
The course, held in conjunction with the International Federation of Association Football (FIFA)merged together Basic/Advanced coaching course and CAF C License instructors who have prompted coaching courses that have aided over 2000 trainers nationwide.
Under the tutelage of UEFA Pro Instructor Erich Rutenmoeller, 30 more participants have been trained and duly accredited.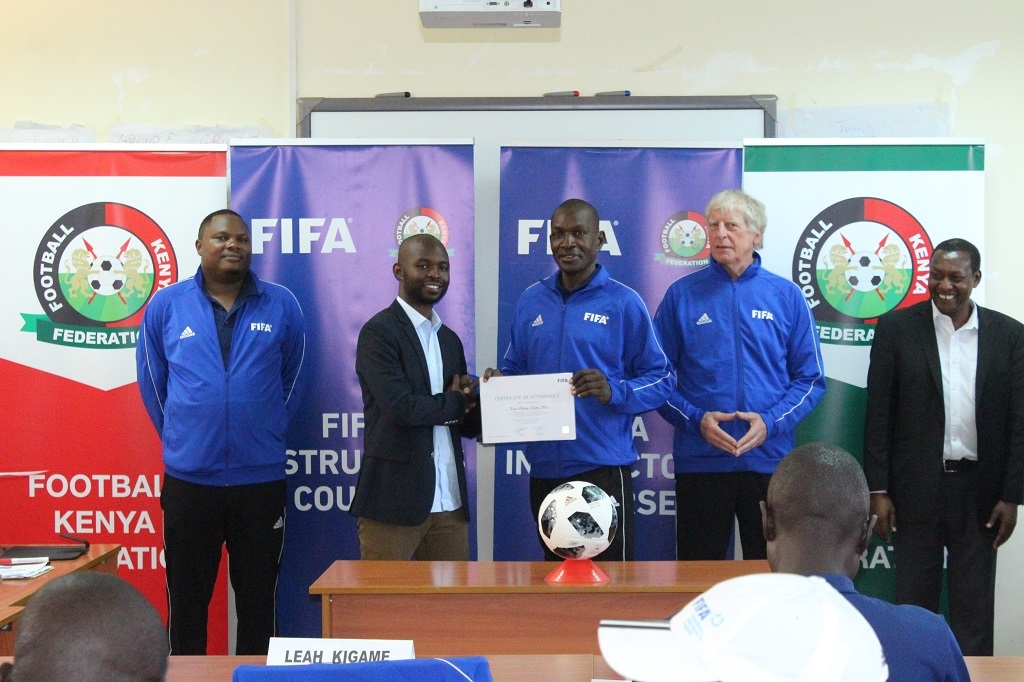 " I am very grateful for the Football Kenya Federation for their support during this course and giving me this opportunity to pass on my skills and knowledge to its instructors and I hope the instructors will pass on the acquired knowledge and skills to develop football in the grassroot level," said Eric Rutenmoeller.
During the closing ceremony, FKF Ag. CEO, echoed FKF President Nick Mwendwa remarks during the previous closing ceremony in an effort to show the Federation's commitment to coaching education as a key ingredient in developing the Kenyan football from its lowest level to its highest level.
"We as a federation, are working towards our goal of empowering the Kenyan football all the way from the grassroot level to the national level and this course serves as a great milestone in achieving this goal," he said.
The participants of  this course will be tasked with passing on their acquired knowledge to coaches who will be selected to undertake the Basic/Advanced Coaching Course next year.
Also read: FKF Elite Youth League registration window opened ahead of 2020 season